Acknowledgement for APICES collaboration in DART 01/05 study published in "The Lancet Oncology"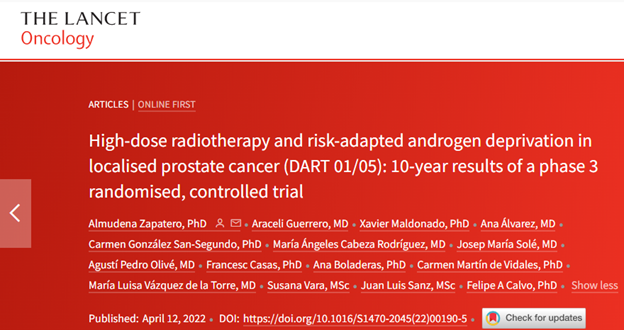 Once more time we are privileged to share the acknowledgment that APICES has received in the recent publication titled: "High-dose radiotherapy and risk-adapted androgen deprivation in localized prostate cancer (DART 01/05): 10-year results of a phase 3 randomised, controlled trial". This is an extra motivation for the whole APICES team. These achievements would not be possible without the involvement of every member of the team in every project in which they collaborate. APICES is very proud of the recognition of our work, and we would like to thank Dra. Almudena Zapatero and the GICOR group for giving us the opportunity to appear as authors and also in the acknowledgements of the publication, as well as to congratulate them for the success of the project, whose long-term results are awaited with great interest by the scientific community.
This study was designed to determine whether long-term androgen deprivation is superior to short-term androgen deprivation when combined with high-dose radiotherapy.
You can find the publication in the following link:
High-dose radiotherapy and risk-adapted androgen deprivation in localised prostate cancer (DART 01/05): 10-year results of a phase 3 randomised, controlled trial – The Lancet Oncology