Acknowledgement for APICES collaboration in ABACUS trial published in "European Urology"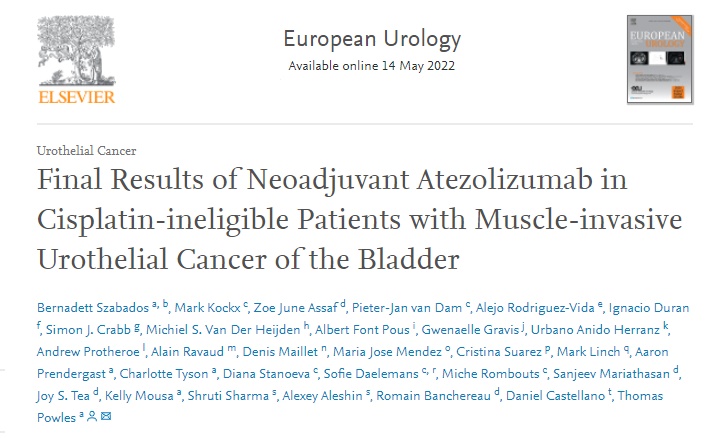 Once more time we are privileged to share the acknowledgment that APICES has received in the recent publication titled: "Final Results of Neoadjuvant Atezolizumab in Cisplatin-ineligible Patients with Muscle-invasive Urothelial Cancer of the Bladder". This is an extra motivation for the whole APICES team. These achievements would not be possible without the involvement of every member of the team in every project in which they collaborate. APICES is very proud of the recognition of our work, and we would like to thank to the Queen Mary University of London, SOGUG and Professor Thomas Powles for giving us the opportunity to appear in the acknowledgements of the publication and congratulate them and all the investigators for their project success.
This study showed that neoadjuvant atezolizumab in MIBC is associated with clinical responses and high DFS and also that CD8+ expression and serial ctDNA levels correlated with outcomes, and may contribute to personalized therapy in the future.
You can find the publication in the following link:
Final Results of Neoadjuvant Atezolizumab in Cisplatin-ineligible Patients with Muscle-invasive Urothelial Cancer of the Bladder – ScienceDirect